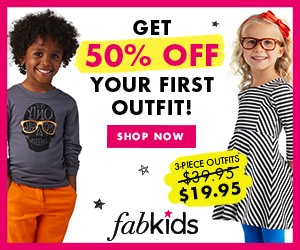 Here is an interesting idea for kids clothing. You take a quiz with your child's style personality and they put together some sample outfits for your son or daughter and ship them right to your home.
Plus right now, they are offering all new members the chance to buy a complete 3 piece FabKids outfit for 50% off! That means you get a perfectly styled 3-piece outfit half off plus free shipping! No coupon code is required when you click the links on this page. The 50% off promo will be automatically added to your account. With the 50% offer, the outfits are as low as $19.95 shipped!
FabKids launched last year  and is led by ShopStyle founder and father of two Andy Moss, in partnership with mom and actress Christina Applegate, who serves as Creative Partner.
I tried this out with an outfit for my daughter last year and she loved the outfit we chose and still wears it this year.  You can read my fabkids review here.  At the time they only offered clothing for girls but now they offer clothing for boys as well.
If you love it, stay in the FabKids club to get playfully styled outfits year-round. Don't love it – cancel anytime for any reason with absolutely no strings attached. No penalties. No problem.
Each month FabKids will suggest an outfit. It's easy to accept the recommended outfit in a single click either via e-mail or on the site. You may also shop the collection to choose your own outfit, or simply skip the month. There is never an obligation to buy – you may "skip" as often as you'd like.
If you are not totally delighted with the FabKids experience you may cancel your membership at any time. No problem. Their promise is to make shopping for your child fun, easy and affordable. Period.
The offer does NOT auto-ship each month. You have to choose whether you want the next outfit.  You can decide to get it, skip that month or cancel.  So this is  a very low risk to try it out.  If you don't like it, then you can always cancel and keep the outfit! 
I think I might like shopping and clothing deal finding too much to want to get an outfit each month but I can't resist a cute outfit at 50% off.  If you are not a big shopper though this might be a way to help you have cute clothing delivered.